Makeup, Beauty, Lookbook
Here's why #NotMyNude calls out white privilege in fashion and beauty
If you're tired of the racism in makeup and fashion, this is for you.
#NotMyNude started out as a hashtag on Twitter designed to highlight the lack of options that people of color face when shopping for commonplace items like everyday nude lipsticks or a classy pair of nude pumps. Since then, the tag has quickly spread to all corners of the internet, calling out the beauty and fashion companies known for their complete ignorance of the true spectrum of colors that humans come in.
The revolutionary hashtag reveals how the effects of the white privilege in the beauty and fashion industries are more than just on the surface of our skin. It has called into question the detrimental effects of a lack of representation and how making white the default harms young people of color and creates a negative self-image early in life.
In response to this privileging in beauty and fashion, Scandal actress and Neutrogena creative consultant, Kerry Washington recently revealed in an interview with Elle Magazine: "I remember being a little girl at the drugstore with my mother, looking at stockings, and having a realization that when a package says 'nude,' they're not talking about me. That was traumatizing for me as a little girl. Like, 'oh, they're talking about someone else's nude body, they're not talking about women of color."
In recent years, dedicated changemakers like Kerry Washington have instituted a need for inclusion and diversity, and we have seen more options available to people of color than ever before.
For example, Neutrogena, a brand that has been known to be notoriously lacking in darker makeup for POC, has added some mildly brown shades to their foundation lineup (which you can view here). Hopefully, more brands will do the same and unlock a whole new clientele while expanding the choices that people of color have – eventually raising the self-esteem and mending the distorted self-image that has been projected on young people, and especially upon women of color, for decades.
Below are specific nude concepts that #NotMyNude challenges, and what certain brands and companies that address this issue.
1. Nude Heels 
While nude heels make little to no sense to most, if you own a pair, you'll know how essential they are as a fashion staple. Nude heels can be worn with literally any outfit and will instantly make you look polished and professional or chic and sexy.
Sadly, nude heels are mostly only available in a somewhat dead-looking shade of grayish beige – which I'm not sure is even humanly possible skin color. Furthermore, this color seems to only suit those with significantly lighter skin tones.
However, the king of nude heels himself, Christian Louboutin, has rolled out a line of nude heels and flats in multiple shades of beige and brown and within many different styles. Hopefully, more affordable retailers will follow suit to the shoe mogul and start making shoes in shades of brown as well. You can see the shoes in all of their skin color rainbow spectrum here.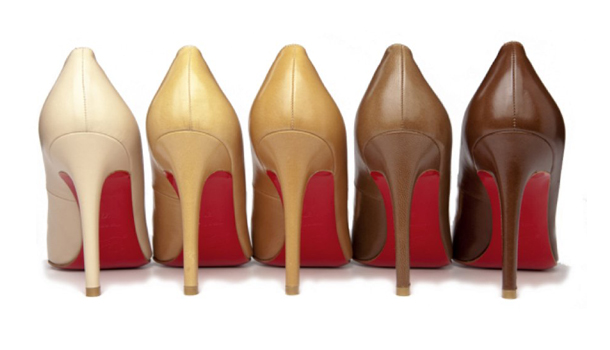 2. Nude Lingerie
Okay, this one is actually kind of cruel! I think all WOC have been personally victimized by "nude" lingerie. For centuries, fancy outfits have been ruined by the sheer contrast between our shades of brown and the pale beige of nude lingerie. This has ultimately resulted in having to decide whether to go with a black bra or a risky beige one.
[bctt tweet="I think all WOC have been personally victimized by "nude" lingerie." username="wearethetempest"]
In response, Nubian Skin, a relatively new lingerie brand, makes gorgeous lingerie in a plethora of shades and sizes (30-40, A-DD). Nubian Skin is for those of us who have been long disappointed in the small shade offerings by lingerie stores. You can purchase from Nubian Skin on their website, and in stores or online at Nordstrom!
3. Foundation Shades
I think I could talk for days about this one! Cosmetics brands are notorious for having about 15 shades of ivory and beige, and maybe 2 shades of light brown. Therefore, dark-skinned people are completely excluded from entire lines as a result. And thanks to common misconceptions (such as "dark-skinned people never get acne or scars or anything" – false!), many people see no reason to change this.
For powder, I recommend Ben Nye Makeup, available online at Camera Ready Cosmetics. Ben Nye was a famous Hollywood makeup artist who quickly realized he didn't have any products that suited his black clients, thus spawning his extensive range of shades in all of his products. The shades come in different tones as well, so whether your skin is neutral, yellow-toned, peachy, or a bit orange, you'll find your match! Not only are these powders high quality, but they are extremely affordable as well and adored by makeup addicts of all kinds.
High-end brands include Black Up Cosmetics, which is available at Sephora. Black Up was created specifically with the issues unique to women of color in mind, such as the often dull tones of darker foundations in mainstream lines and the lack of adequate pigmentation in cosmetics that often plague women of color.
Plus, it's a Paris-based brand, so you know you're getting the good stuff!
4. Nude Lipsticks and Neutral Makeup
To add on to point #3, it's pretty difficult to find a mainstream nude lipstick that doesn't look terrible on brown or black skin. Conventional beige nudes make it look like I stole my white friend's concealer and decided it'd look nice on my lips. A lot of makeup isn't even pigmented enough to show up on brown skin or shows up as an entirely different color – which brings me to my next point of how the availability of swatches on a range of skin tones is crucial.
Luckily, there's a bit more of a price range for cosmetics solutions! Drugstore brands who cater to the spectrum of skin colors include Shea Moisture cosmetics, available online and at Target, Black Opal Beauty, available online, and the Covergirl Queen Collection, sold on Drugstore.com.
An excellent option for beauty-obsessed Brits is Sleek Cosmetics, which is budget-friendly and reputable. Sleek can be found in stores at drugstores, on their website, and on Amazon.
5. Beauty Intel 
As POC, instead of just being able to google "Naked 3 swatches", we have to google "Naked 3 brown skin swatches." If we cannot find swatches for brown skin tones, we hold out hope that our favorite beauty guru of color plans on uploading a swatch video of the next must-have palette or liquid lipstick.
It's hard to tell how something will look on your skin if nobody of your skin color is reviewing the product, and the often under-informed Sephora employees usually don't help either due to their lack of information on darker skin!
For swatches of the latest products, I cannot recommend Cocoa Swatches enough. Cocoa Swatches has a website, an Instagram account @cocoaswatches, and an app available for Apple and Android devices.