Music, Pop Culture
Rihanna's ANTI is killing it in all the right ways
You need to listen to Rihanna's ANTI - and I've got the lowdown to accompany it for you!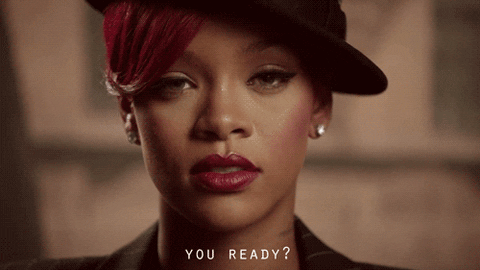 It's been over three years since the release of Unapologetic and ANTI came out just in the nick of time. I'm so happy Rihanna finally delivered on this after so many false starts because we really fucking needed her. We've been lucky in the last few years to be hearing lots of self-assurance and agency from female artists, but a lot of it has come with a hair-flip delivery that's almost insouciant at times. Personally, I've been longing for the Boss-like performance that Rihanna brings with her work – you are in her life at her discretion, not necessarily because you are dispensable but because she's so serious about it.
The album is good, but it is definitely not what I was anticipating. It's going to take a few listens for me to get accustomed to the unmitigated vulnerability – Rihanna's SO good at being vulnerable but always tempering it with an aggressive edge (ie. 'This is what's in me underneath the armor, but don't fuck with it or you will burn in my hands' (sames, grrl!)). It's lowkey – and to call it soulful seems to be sort of an understatement. Everything is laid bare and leaves you with the sensation of the calm, reflective delivery of a goodbye after a toxic relationship – she'll walk away because that's what she has to do, but she'll let you know that it pains her to do so.
[bctt tweet="Rihanna's SO good at being vulnerable but always tempering it with an aggressive edge."]
I guess I was expecting more volatile, even menacing, self-assuredness just ratcheted up a few clicks and so far I'm sort of still longing for tracks like 'Pour it Up,' but it's plainly evident that she's grown as a person and as an artist since then. It's a definite departure from Unapologetic's EDM-infused tracks. It's still Rihanna, and as composed and poised as her lyrics and vocal delivery have been in the past, this release truly reflects her ability and range as well as a solid sense of absolute self-agency and maturity.
Consideration (feat. SZA)
oh i am SO ready. look, i even put my boots on.
I'm all like, "Yep, here we go, here's some Rihanna just walkin' up in the club, bein' a boss." Her sass and swag are heavy in this track. Showcasing her Baja accent, which lends a dancehall feel through it's popping inflections, the track features down-tempo beats with a static feedback. She's here right from the jump letting us know, she's "got to do things her own way."
James Joint
except please turn down the guitar
A soft exhalation following the heated intro track, 'James Joint' reminds us of how it feels to be calmly and sweetly swept away by new (or old) passion. The almost whispering vocals make it seem like a safe and cozy space to step into.
Kiss It Better
Though the lyrics are both aggressive ("Man, fuck your pride") and vulnerable ("Why are you here? Here to take me back?"), and the fore- and background vocals are simultaneously beautifully airy and soulful, the arena-rock-flavored guitar riff is distracting and ultimately the track fell flat for me because of it.
Work (feat. Drake)
Not gonna lie, this track had me screaming "YEEEESSSSS" out of the gate. Slightly uptempo from the preceding tracks, with some EDM flavors in the background beat and just a slight whine (not a bad thing!) in the hip hop delivery of the lyrics, we're reminded of the hustle of making relationships gel – and stay – together. Bonus, could I be any more excited that RiRi and Drizzy teamed up once more? Been too long, guys. Way too long. Nailed it.
Desperado
pretty much
WHAT?! Did my favorite Banks song just show up in here? What is happening? I couldn't have been happier when I heard that hard-driving, grinding drone laid beneath the steely lyrics. "There ain't nothing here for me, but I don't wanna be alone," Rihanna spits. The song is a sharp departure from the previous track, but one that works so well.
Singing about that feeling of setting your jaw and facing the facts of a pretty dysfunctional situation – but one that also makes you feel like the rest of the world falls away – this track ends up with a gritty, haunting feel. This is the menacing feel I was hoping for. Desperado for real.
Woo
"I bet she could never make you cry/ cuz the scars on your heart are still mine." Here again, we're hearing the visceral details of toxic love – the kind that won't let go of you even after you've left it. Again, personally, when I hear a track with plenty of reverb and drone, it cannot miss. The menace keyed up from the last track, there's an achingly slow beat with drum rolls that almost make you feel like you're walking into battle and you can feel your eyes narrow with spite while listening. Definitely slaying here.
Needed Me
dismissed.
Sounding tired at first, but in the best way, Rihanna delivers a scathing rebuke to someone she'd like to understand wasn't worth her time. Yes. Oh my God, yes. The fade-in and fade-out of the beat couples perfectly with her emotional lyrics. The repeated "You needed me," comes out all business and almost starkly when you notice that she doesn't talk about any reciprocation on her end.
Yeah, I Said It
Hearing some similar guitar riffs here to those in 'Kiss It Better,' but they're toned down significantly and it works much better with her soft and inviting vocals. A quiet and alluring delivery addresses a raw desire for physical companionship and to leave out the heft of emotional baggage and analysis.
Same Ol' Mistakes
we just can't stop ourselves!
 Confession: Rihanna covering a Tame Impala track with a RiRi twist was probably the least expected thing that happened on this album for me. And, for the first time on this release, her vocals are blended – even overshadowed by – the instrumentals, rather than being front and center. Not a bad listen and maybe even some necessary breathing room before what comes next.
Never Ending
brb. calling the one that got away.
Melancholic vocals laid over acoustic, indie-flavored guitar driven background music. This song makes you feel like a long drive in the desert on your way to a new life, still not leaving the old one entirely behind. Dreamy in its delivery, but picking up the pace tempo-wise, this song could stand on its own all day long while still being the perfect ramp-up to the concluding tracks.
Love on the Brain
i need to be alone right now
Whoa. First of all, this track ought to come with about 20 trigger warnings. Addressing the volatility of a toxic, abusive, co-dependent relationship, I was thrown for a real loop when we got to this point in the album. Soulful vocals laid over down-tempo orchestral music and do-wop backup vocals reminiscent of a 1950s high school dance, I was heated and crying when I heard this.
You can hear the heartache in Rihanna's raw, jagged delivery and you can feel the struggle of wrestling with the question of why one would stay in an awful situation. Powerful to say the least.
Higher
hang on. i'm having feelings.
This is an absolutely appropriate follow-up to Love on the Brain. With similar sounds and feels, Rihanna turned up the jaggedness we heard on the previous track just a couple of notches. If Love on the Brain is the song we sang in the toxic relationship, Higher is the song we sing at the end of the night in the club after leaving that toxic relationship. It's a song about both accepting that the right decision was made and that we're still experiencing loneliness and a longing for connection.
Close to You
me too, Zayn. me too.
We probably needed this after the previous two tracks. The album could have gone out on a power-punch with Higher, but this lullaby-like ballad gently brings you back around and out of the passion you just were feeling. A gentle delivery combined with delicate piano instrumentals and lyrics that acknowledge both her own vulnerability and that of the person she's singing to, this song is a fragile and coaxing invitation to trust again even only for a moment.
I can see why, after some initial surprise, "B**** Better Have My Money" was left out of the mix. Though we see a lot of versatility in musical style from track to track on this album, you can see how there's a delicate balance between retaining the badass boss persona and opening up totally.
But maybe that's why it's such a distinctly different sound – the personal growth. This will leave me with bittersweetness to digest for the next several weeks, I'm sure.