Like anyone else these days, I halfheartedly mumble-type "fb" into my search bar and hit enter, subleasing my mind to the familiar white and blue, the waves of mindless media washing over me.
The purpose of social media is to stay in touch with friends and family, engage (and disengage) in public discussion about the world or Donald Trump, or even celebrate weddings, graduations, love, and life. It's okay to admit that. We don't have to feel guilty or wrong about being a part of this miracle that is connecting through Internet connection.
[bctt tweet="Like anyone else these days, I halfheartedly type "fb" into my search bar and hit enter."]
However, as Facebook and other media outlets have grown over the years, pop culture (lol) seeped (no surprise) into our newsfeeds (as always). Where once you had to intentionally seek celebrity news through PerezHilton.com or your secret copy of People Magazine, it is now forced upon the right side of your personal online space for you to bask in shamelessly.
So as I log into my Facebook to look at holiday photos of my friends, I am tempted by a mischievous list of news.
This should look fairly familiar…
Just devastating topics. Oh, but you can also click "See More":
Now what, besides one or two of those top trending topics, seem important enough to pervade our social spaces? I wish, for once, those headlines would be life changing. Or inspire a verse in a song. Do you know why these particular headlines are there?
Because they are trending. WE trend THEM. That means, with every click, the news becomes more and more relevant. We mindlessly click and search until news like Kylie Jenner's new lip collection and Kim Kardashian's Emoji apps breaking the App Store is on my must-read feed.
Why do I even know these pieces of information? Because, to be honest, I've clicked and subsequently trended. And after I absorb this news, I convince myself that it is something to laugh about. Until I'm in the App Store, and I am mindlessly downloading Kimojis, so that I can have an Emoji of big ol' butts in order to properly translate my emotions through text message.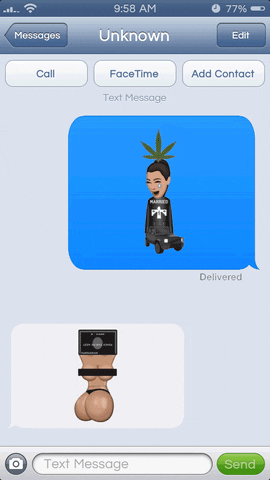 I won't apologize for being merciless about this. I cannot help but think that, in the past, when you wanted to hear about the world, we picked up books written by experts and newspapers giving you the best trending WORLD topics. Think of your grandparents and parents. They are much more sophisticated in this realm.
[bctt tweet="Make no mistake, I love me some pop culture."]
We simply laugh at them because they aren't as "in the loop" as we are. We can laugh at Drake's dance moves without them.
Har har har *clinks champagne glass full of pop culture poison*
Make no mistake, I love me some pop culture. When I am sick of watching Spongebob, I will flip to E! and smh @ current celebrity news. At times, we need to laugh at ourselves to cope with the real world's dismal realities. Isn't that what Bad Luck Brian is for?

I can't, however, imagine bringing a child to a world where people who stand for nothing but making sexual emojis and profiting off of people's mindlessnesslessnesslesnsnsksneksns leads and perpetuates national headless headlines.
If it is ultimately on us to prioritize the flow of information coming out way, it is due time that we click, trend, and share some substance.
Check out:
What has been happening in Baltimore since April, or
Asking Coming of Faith's Madame Lestrange all your unanswered questions (the modern Ask Amy with a brutally honest twist), or
This amazing Korean artist who charmingly illustrates what real love looks like (you don't understand, these will break your heart). *crying Kim face emoji*
https://thetempest.co/?p=12655