If you're like me (broke, bad at DIY, and a procrastinator) then you're probably on page 30 of Google search results for holiday gift ideas, tearing your hair out and cursing this stupid season.
Believe me, you're not alone in going through the stress and anxiety of the holidays. Family, friends, your boss who you barely even like— you need to find something for all of them to prove you're not some massive dick. It's tough, even more so when you're on a tight budget.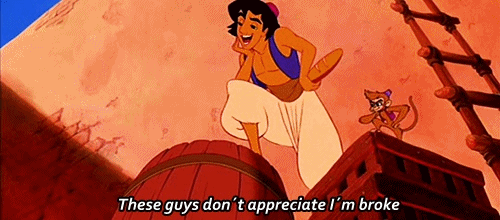 Because my adult skills are minimal, I rarely learn from my mistakes, meaning that I've had my fair share of years of pre-holiday anxiety, shitty gifts, and hours wasted clicking through condescending listicles telling me to make my mom a picture frame for Christmas— because once you become a mom all you want is more framed photos of your asshole kids who screen your phone calls, right?
Fret not, friends, because I am here to share my wisdom with you all. This will be the only gift guide you'll need, probably ever.
1. Basic rule of thumb: gifts should be either practical or edible (or both).
I'm sure that oh-so-witty t-shirt you found on Zazzle would be perfect for your cousin, but do they really need another shirt to toss into their PJs cabinet? The only person I've seen unironically wear ironic t-shirts is that one kiss-ass that turns up in every college art class (who probably also owns a fedora). Skip it.
Same goes for gag poop/vomit, a giant plush bacon pillow, or anything from Urban Outfitter's gift section. It might be good for a chuckle or two (if your sense of humor sucks), and then what? It sits in a box in the garage until it's been so long that the gift-receiver doesn't feel guilty about tossing it out.
2. Coworkers, colleagues, classmates, etc…
You probably can't afford a box of See's Candy for every one of these people, so here are some alternatives.
Your best bet for these gifts is a box, bag, or basket of winter-related goodies that you can grab for cheap. Is it the most original idea? No, but no one gives a shit, they're getting free stuff. Get a package of gift bags/boxes/baskets (Party City or your local Little Tokyo/Chinatown is a good place to look). Then, fill them with things like fuzzy socks (F21 is selling 2 pairs for $4), giant chocolate bars (Ralph's sells 2 enormous bars for $3), or hot cocoa packets (buy one box from any grocery store and you're set). The whole thing should cost you $30, max.
If you want to keep it simpler, head over to your local grocery store and get a terrarium plant for $2-3 each. Add a packet of hot cocoa and a tiny ornament or ribbon to keep it festive, and you've got yourself a pretty solid gift.
If you have the budget and want to make things even simpler, get everyone on your list a $5 coffeeshop gift card and present it with a pair of fuzzy socks or packet of hot cocoa. Basically, fuzzy socks and hot cocoa packets are the key to everything.
3. Tech, businesspeople, artists, students, etc.
Storage. It's the digital age, and everyone could use some more storage. Cord organizers are great, too.
If the person is special (or if you've lucky enough to have the cash), get them a 1, 2, or 3 terabyte hard drive where they can store their photos, projects, or pirated movies (we don't judge).
For smaller-scale (read: cheaper) storage options, get a flash drive for as little as $10— either a sleek, small one or a novelty flash drive. If you've got an HP Lovecraft fan in your life, this creepy-awesome drive is probably the one for them.
To your photographer & filmmaker friends, SD cards are a godsend. I'm telling you this as a filmmaker: I'd rather receive any of these things over a novelty mug shaped like a camera lens. It's cute, but cuteness is temporary. SD cards are forever.
To make it more meaningful (if you're into that), crack open the packaging and stick a personalized mixtape onto the drive. Boom. Practicality and sentimental value.
If an SD card or flash drive feels too small to you, throw in the trusty fuzzy socks or hot cocoa. Honestly though, trust me when I say that everyone wants more storage, and no one ever has enough. No one will be disappointed by flash drives, SD cards, or a hard drive.
4. Your mom
My mom's always unabashedly told us exactly what she wants for every birthday or holiday, so I've rarely had an issue figuring out what she wants. The problem lies in the fact that my mom always wants $200 bottles of perfume or $600 handbags (way to play into gender stereotypes, Ma), so I need to find a happy medium.
Moms are either picky as hell or they like everything. If you're lucky enough to have one of the latter types of mothers, I'd suggest these DIY coasters. I know, I know, DIY sucks and most of us aren't Pinterest-level crafty, but these coasters were super easy. Use family photos, generic stock photos of flowers/beaches, classic art pieces, typography/calligraphy… anything, really. Your mom will just be happy you know what a coaster is.
If your mom is more of the ultra-picky type, the first step is to understand that whatever you get her, she will not love it (unless you get that $600 bag, but even then my mom would find something wrong with it). This category of moms is best suited to the practical gift: tablets or smartphones, TV or magazine subscriptions, refrigerator whiteboard, etc. Is your home's (or parents' home's) dishwasher broken? Get it fixed. Is that singer she loves coming into town? Get her two tickets.
Of course, some of us are college kids (or recent grads) and might not have the budget to spoil our moms like we'd like to. One year, I organized my mom's spice cabinet with nice new jars, since she hadn't bought new jars in over a decade (literally). Another year, I took all of her worn-down shoes and used DIY tricks to fix them up.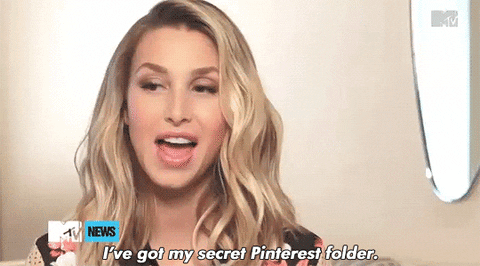 Here are some (super easy, Shayan-tested) DIY ideas:
Chalkboard tray (

and don't forget to add pieces of chalk tied together with a cute ribbon!)

A

tote bag

(My family is Pakistani, so I used paint to make henna designs on a bag).

Laptop or iPad

case
I am well aware that DIY sucks, but work with me here. It's hard to be both anti-DIY and broke, but these projects are super easy and affordable.
5. Your significant other
The golden rule: stay away from "100 reasons I love you" notebooks or stupid coupon books. Let me tell you, if my SO gave me a coupon book, I'd reconsider the entire damn relationship.  
You may know your SO better than you do anyone else, but that doesn't make it easier to find them something— or so you think. Because they're so close to you, it's assumed that you need to get them something extremely special, but you don't. You know exactly what to get them. Dig deep. You got this.
If you still come up short, get them a hard drive. It's a good go-to.
6. Miscellaneous gifts that don't suck.
Bacon spray, unicorn meat, and rubber chickens might be whimsical and quirky, but they're also a waste of your money and the gift-receiver's storage space. Here are some miscellaneous things that don't cost a fortune and might be of some use to someone on your list.
Fake tampons to smuggle booze into places— because what  better way to ruin your family Disneyland trip than by getting really drunk on It's A Small World?
Your friend who's always having parties might be interested in owning a box of

Cards Against Humanity

,

the worst/best party game ever.
That edgy friend who sorta intimidates you would probably love to wear Edgar Allan Poe around their neck from this (surprisingly affordable) Etsy shop.
Anyone who's gone through iPhone charger struggles would appreciate this nylon cord cable that has a good length, is flexible without threat of damage, and charges fast.
Buy your elementary school-aged cousin an iPod nano for as cheap as $11 and be cemented in their memory as the coolest cousin ever.
Level up your baker friend's

measuring cup

(and maybe get some cupcakes out of it).
I swear, I'm not obsessed with socks (maybe) but these

classic art socks

are too cool.
And if you're looking for the cheapest of the cheap, here are things you can find on Amazon for $5 or under:
Your friend who pretty much only eats sushi (hi, Laila!) would love

these steel chopsticks

that'll make her appear both ~super cultured~ and super prepared.

Give someone the gift of an orgasm for the scalp with this

really awesome head massager

. Harry Styles approved.
If you still can't figure out what to get that one person on your list, you're gonna have to give up and get them a gift card. Just know that your present is lame and you should feel bad.
https://wp.me/p7kpad-3b0