Tech, Now + Beyond
Kick ass and take names with these 15 free coding classes
The only thing I learned about technology from school was that Wikipedia was a poor source to use for papers.
In an age where teachers bar laptops from classrooms and the only general technology class you get is "How to Use Microsoft Word 101," millennial fluency in technology isn't keeping up. Sometimes it seems like you have to declare a major in computer science just to get a minimal grasp of coding.
Not so, eager learner. Here are 15 free (yes, FREE) online courses where you can learn about everything behind that shiny screen of yours.

This class will introduce you to interactive tools for 3D animal and 2D drawing so you can build and manipulate whatever your mind's eye imagines with the help of some algorithms.
"But these classes aren't verified!" you object. Oh oh, let me tell you how wrong you are: this class from Coursera is from the University of Tokyo, with subtitles available in English. There is a real professor, giving you live demos and assignments.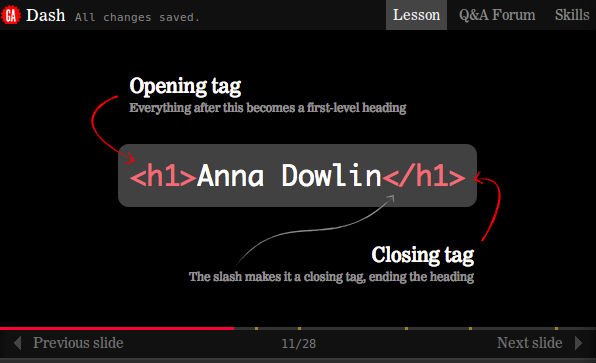 If you're already bilingual, you'll find three more languages to add to your arsenal by the end of this course: HTML, CSS, and JavaScript. By the end of these interactive exercises, you'll be able to build a site from scratch, make it pretty, and make it move.
Perhaps you're more interested in building an app. This Coursera course is for you, and bonus points if you're a beginner. By the end of it, you'll be able to build an app on a Windows Phone, iPhone, or Android.
MIT developed this program, with the idea that everyone starts from scratch (clever, eh?). It's designed for kids – so you know you can wrangle this one at the very least. Scratch is especially good for animation hopefuls, as you get to make characters dance and walk with a few algorithms.
This is a website that offers an amazing variety of friendly, hands-on coding lessons for absolute beginners, even some of the more advanced languages like jQuery, SQL, and Ruby on Rails. I'm not even sure what those are, but now that something like this is offered for free, I just might find out.
I once took a summer course on C#, a precursor to C++. Needless to say I forgot all about it, but free courses like these make me want to pick it up again. This site also offers Hindi translation, which is pretty neat in itself.

Code.org is dedicated to giving every student, regardless of background, the ability to learn coding. In fact, that's their whole motto: "Anyone can learn." They're even hosting an event called "Hour of Code" in December, and you can and should join for free.

MIT strikes once again. Everything about this seemingly timeless course really is open: they offer the assignments, exams, and lecture videos to any student hungry for tech knowledge.

You can search on Khan Academy by skill, subject, or video: providing a rich and interactive experience in your technology education. It offers a variety of courses, from animation to building a webpage, all useful skills in the tech industry.
If you've had success with any of Google's products, then HTML5 Rocks should provide you with that same satisfaction. The process works through easy-to-read articles and tutorials, and again: free.
Don't get discouraged by the paid section: there's still plenty of free courseware that Udacity offers. It also organizes every course from completely new to advanced, so all skill levels are welcome.

The best part about MDN is that it provides glossaries and dictionaries for that tech jargon so many of us are unfamiliar with. The second best part is that, from there, it helps you figure out what you need to know and what you need to start off with.
Third best part: no cost.
More of a visual learner? The Code Player gives you the video tutorials that you just can't seem to find on YouTube, with clear instruction and direction. There's no raspy voice either – just straight up code. Ahhh…bliss.

Work better in a team? Join one on Free Code Camp, where all of you are working towards one goal. They have the Big Three (HTML, CSS, and JavaScript), but some other cool extras as well.
If you're an aspiring coder, you'll need to bookmark this site. Tutorials, definitions, and a variety of topics: that's what W3Schools is for. This huge database gives you examples for everything you do, too, so that if the code is too hard to make from scratch, you can work from their provided source.